10 Classic, Super-Scenic California Road Trips to Take for Magic Scenery
Envisage a road trip bestowing not just incredible outdoor experiences and magical scenery but also endless sunshine and world-class theme parks. Wondered the destination? The United States of America, simply the USA, is one of the most diverse countries on earth, ideal for excellent road trips – hundreds of gorgeous destinations to stop-by and admire, cheap gas, great roads, countless outdoor activities, limitless stretches, glorious terrains, and more. California is one destination that boasts everything we just mentioned above. A California road trip winds through stunning deserts, infinite dunes, spectacular coastal highways, and around lakes and mountains. Needless to say, the Golden State is the most incredible west coast road trip destination you can take in America.
Highways carving through towering sequoias, rocky desert landscapes giving way to rolling farmlands, and exotic beaches blanketing superbly the coastlines – a state in the Pacific Region of the United States, California, the 3rd-largest state by area and the most populous state in the country, is magnificently packed with everything you could ask for the ultimate road-trip rendezvous.
It is time to take to the road and unearth some of the super-thrilling California fly drive routes.
10 Breathtaking Roads to Drive in California Once-in-a-Lifetime
Hit the road, admire the beauty, fly-drive the USA's west coast, and let us know your most favorite California road trip experiences. Let's get started with these awe-striking road trips and know the Golden State better than anyone else.
Highway 1 – The Most Scenic Road Trip in the United States
Starting Location: Dana Point (Orange County)
Ending Location: Leggett (Mendocino County)
Total Distance: 656 miles
Prime Seasons: November through April
Want to fly-drive California's Pacific coast? Highway 1 is the first thing that engrosses the mind.
Often referred to as the Pacific Coast Highway, Highway 1 is arguably the most scenic road trip that you can take in the country. Comprised of a collection of highways, including Shoreline Highway, Coast Highway, Cabrillo Highway, and the southern part of PCH (the Pacific Coast Highway), Highway 1 requires, at least, five days to cover the entire route. Book the best California vacation rentals if you wish to extend the trip by a day or two to engross in numerous activities and sights.
Embark upon this picturesque expedition from the sunny beaches of southern California. Your starting point should be Laguna Beach or Huntington Beach where you may drench in the sunshine and immerse yourself in some water-related sports. As you move ahead with your road trip, you will catch and admire the splendid Spanish colonial architecture.
Your car then rushes into Santa Barbara where you would love sampling local Santa Ynez Valley wines. Proceed further to San Simeon, you are likely to spot elephant seals and zebras. Apart from being an adventurous soul if you appreciate nature's beauty, Big Sur has plenty of sights that will take your breath away. Look at the majestic mountain cliffs!
Monterey should be the next stop. You would love to pay homage to John Steinbeck at Cannery Row. San Francisco has its iconic attraction waiting for you. The Golden Gate Bridge guides you further and you will be on narrow roads meandering through the gorgeous hills of Marine County. Allow your family to relax and enjoy a picnic along the Point Reyes National Seashore.
Inches away from the sleepy coastal hamlet of Mendocino, daredevils would prefer walking driftwood beaches and take off-the-beaten-trails. Your fascinating road trip officially ends in the beautiful census-designated place of Leggett.
Redding to Lassen Volcanic National Park – Relish the Moments
Starting Location: Redding
Ending Location: Lassen Volcanic National Park
Total Distance: 188 miles
Prime Seasons: Spring and summer
Get ready for some incredible Instagram images of craggy mountain peaks and volcanic rocks on this enthralling road trip starting from Redding to Lassen Volcanic National Park.
The bustling city of Redding in Northern California is famed for Turtle Bay Exploration Park (houses a museum, an arboretum, and botanical gardens), the Sundial Bridge (spanning the Sacramento River), Shasta State Historic Park (boasting the ruins of a gold-rush mining town dating back to 1,800s), and Whiskeytown National Recreation Area (a lake and waterfalls). Try to cover as much as you can before traveling north on I-5 to Shasta Lake. Apart from being a hotbed for watersports and fishing, this is the largest reservoir in California. Take in the stunning 14,162 ft. Mount Shasta as you drive past. This mammoth sight has surprised many – including John Muir. He once wrote, upon seeing it for the first time, made his "blood turn to wine". You may also like to halt for a few minutes at Castle Crags State Park before heading south on Highway 89 and hike to McArthur-Burney Falls Memorial State Park (second oldest state park in California) to see the gigantic waterfall (129-foot).
Lake Almanor is a lovely spot to end your trip. It neighbors the steaming geysers and bubbling mud pots of Lassen Volcanic National Park.
Northern California Wine Country Road Trip – Pamper Yourself with Best Wine
Starting Location: San Francisco
Ending Location: San Francisco
Total Distance: 161 miles
Savor the best wine the Northern California region has to offer and pamper yourself with a comfortable stay at the best vacation rentals in California during your long weekend road trip with loved ones. Although Napa Valley comes straight into your head when we talk of this beautiful region, there are plenty of other top sights and things to do on offer. Your road trip will take you along the super-stunning coastline of Northern California.
Set forth on your trip right from San Francisco, jog north on Highway 121, drive past the Napa town, and continue northeast on Highway 121 or turn north onto the Silverado Trail. The trail ends in Calistoga. Hold on to Sonoma via Highway 12 and Calistoga Road. Stop at some of the fun points, including Jack London State Historic Park, Robert Louis Stevenson State Park, and Sugarloaf Ridge State Park.
Enjoy some great meal and refine wine at one of the high-end eateries that ring historic Sonoma square before ending your trip with a perfect romantic sunset drive back to San Francisco.
Gold Chain Highway (Highway 49) – Walk in the Footsteps of Miners
Starting Location: Oakhurst
Ending Location: Vinton
Total Distance: 295 miles
Travel back in time to the Gold Rush era on Highway 49, walk in the footsteps of gold-seeking immigrants who made their way during the 1849 Gold Rush. This Gold Chain Highway road trip deserves your attention as you enrich your travel experience along rocky meadows and pine-covered foothills of the Sierra Nevadas.
Kickoff with a history lesson at Mariposa's California State Mining and Mineral Museum. Stick to the north along the route only to unravel some of the towns and historic buildings of the bygone era. Also, visit well-preserved mining towns of Sonora and Jamestown to know what transportation was like in the nineteenth century. Railtown 1897 Historic State Park and Columbia State Historic Park in Jamestown are the perfect places to be.
Rim of the World Scenic Byway (State Highway 18) – Activity-filled Fun Trip
Starting Location: Cajon Pass
Ending Location: Big Bear
Total Distance: 117 miles
Southern California, too, lures travelers with brilliant beaches and majestic mountains. Although Rim of the World Scenic Byway is relatively short, you are going to get the fresh breeze of the ocean as well as the revitalizing wind of the mountain.
Get on to State Highway 18. This is the starting point, i.e. the Cajon Pass. Head east – savoring the awe-striking cliffs and peaks of the San Bernadino Mountains – take a detour if you want to visit Lake Arrowhead where you can hike, camp, and ride with your gang. Hike lovers wouldn't want to miss the Pacific Crest Trail.
As you get back on Highway 18, the chances of spotting the Pacific Ocean increases. For that, you need to visit Keller Peak Fire Lookout. If you have your California Cabin Rentals booked already, you will love to spend a few days getting engaged in watersports and hiking in Big Bear.
Napa Valley's Silverado Trail
Starting Location: Napa
Ending Location: Napa
Total Distance: 29 miles
Best Time: Year-round
Not a long route, Napa Valley's Silverado Trail promises great wineries and the tastiest wines in the state. The Trail was built in 1852, linking Calistoga and Napa and runs parallel to the State Highway 29. Stop by some of the best wineries that the state has to offer. Sample the best wine and make your way north. Reynolds Family Winery, Mumm Napa, and Clos du Val.
The Desert Drive – Marvel at Spiky Namesake Trees
Starting Location: San Diego
Ending Location: Joshua Tree National Park
Total Distance: 290 miles
If you opt for this road trip, don't limit yourself for the spiky namesake trees of Joshua Tree National Park. You have got to explore plenty of quirky things, including rock formations, art installations, wildflower meadows, and architectural hotspots, the spectacular deserts have to offer along the way.
Let's begin your trip right from the city of San Diego. Head on to Highway 163 to 78 towards Anza-Borrego Desert State Park, known for wildflower super blooms in spring. If the flowers are not blooming during your trip, the charm of the landscape remains the same with cactus forests, slot canyons, badlands, etc. Marvel at the stunning, prehistoric animal sculptures built by Ricardo Breceda.
Now head north on Highway 79. En route to Palm Springs. This is going to be a great break from the desert sun as you drive through wooded Santa Rosa and San Jacinto Mountains National Monument. Or, you can continue on Palm Canyon Drive. Your journey is likely to go toward the Salton Sea. The Sea is drying up. It is believed to be one of the largest inland seas in the world.
Make your way toward Slab City and take Highway 111 north to Palm Springs, home to many pools ultimately providing respite from the heat. Further, this is believed to be an oasis of midcentury modern architecture. Keep to Highway 10 to Pioneer Town and let yourself immerse in some natural beauty and make time to visit the Integration Sound Bath and the Noah Purifoy Desert Art Museum.
Surf Safari through Orange County – Excellent Whale-Watching
Starting Location: Dana Point
Ending Location: Huntington Beach
Total Distance: 30 miles
When you want a quick ride and get back to your normal routine, we suggest taking this route up. This gorgeous endless-summer drive through the beautiful Orange Country will refresh your mood and revitalize your soul.
The journey starts from Highway 1: Dana Point. This is a well-known spot for excellent whale-watching during the winter months. Begin your drive from at the southern origin, head north to cruise through Laguna Beach, housing Pageant of the Masters.
Halt for a while at Crystal Cove State Park to appreciate some of the cleanest beaches in the state. Newport Beach is the next stop. Let your gang scatter around to explore the yacht-filled harbor and creamy Balboa Bars.
Resume your road trip for the final destination. You will finally reach the dubbed Surf City USA, i.e. Huntington Beach. Catch a wave with your children, have some fun in the water, or enjoy some great views of the experts from the lively Huntington Pier.
The Eastern Sierras (Highway 395) – Traces the Sierra Nevadas
Starting Location: Lone Pine
Ending Location: South Lake Tahoe
Total Distance: 232 miles
Prime Seasons: May through November on the Yosemite Route (Weather Permitting), Year-round on the Lone Pine Route
This road voyage traces the backbone of California. You get to unearth the historic mining towns, prehistoric forests, and many geological sites. The journey begins from Lone Pine. This was an erstwhile mining town sandwiched between Death Valley National Park and Sequoia. You will love the hike here that takes you to the jagged peaks of the Alabama Hills. Have a glance at the surroundings, you might remember the scenes from Django Unchained, the Lone Ranger, and Gladiator. These Hollywood flicks were filmed here. Pay tribute and honor the hundreds and thousands of Japanese Americans at Manzanar National Historic Site, who were forced into the internment camp during WWII.
You enter Big Pine only to take a detour onto Highway 168 to see some of the oldest living trees on earth. After visiting Ancient Bristlecone Pine Forest, you might prefer spending some time at Hot Creek Geologic Park and Bishop: Wild Willy's Hot Springs. Continue with your journey, you will pass Mammoth Mountain. This is a well-known ski resort. Challenge your skills here if you are a pro.
Near Topaz Lake, you may like to leave Highway 395 after a detour to explore Bodie off Highway 270 and take Highway 89 to South Lake Tahoe. This is your ending point. Make sure you have already booked a beautiful California villa for your family.
Highway 101 – Mix of Wine Country and Beach
Starting Location: Malibu
Ending Location: Lompoc
Total Distance: 120 miles
Best Time: Year-round
Love road trips? This one is just for you. Go through the Pacific Coast Highway map to plan your memorable trip. The Pacific Coast, stretching from Washington to California, is picturesque, with gorgeous urban spaces, sea stacks, cliffs, and the raging ocean.
Take a look at Map of California Coast –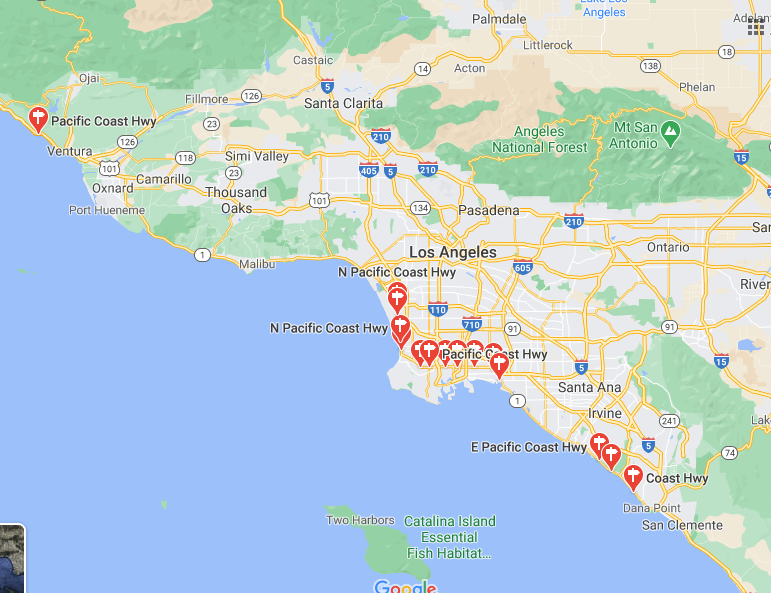 Overlapping parts of Highway 1, the stretch of Highway 101 is known for both wine country and beach. You will love to start the trip from Malibu, driving along the rugged Santa Monica Mountains. Take in the wonderful views before passing through the idyllic Santa Barbara, Ventura, and Oxnard. After walking on the local beaches, including Gaviota, Refugio, and El Capitan and having glimpses of Channel Islands National Park, proceed further to Lompoc. Enjoy some wines at the Lompoc Wine Ghetto before soaking up the sun by the pool of your California condo rental.
Get hold of a Pacific Coast Highway road trip planner for an unforgettable time with near and dear ones.
Best Time to Take a California Road Trip with Family and Friends
Stretching from the Mexican border along the Pacific for nearly 900 miles, California makes for a perfect vacation destination all year round. Having said that, you shouldn't just embark upon the voyage without a solid plan. Places like Yosemite, etc. need proper planning to have memorable moments to cherish for a lifetime. Search for a reliable California fly-drive route planner and book an affordable west coast drive package for your family. Also, you can get in touch with the local authority to know about the political condition and weather forecast before hitting the road.
Where to Stay in California?
Regardless of your budget, you can sincerely make a memorable trip with your buddies. With vacation rental homes in California available at every corner, near state and national park, and close to the State Highways, there's no reason why you wouldn't stay here and create unforgettable memories.
If you are traveling with your partner and don't need a big place, simply spend less than $100 per night on accommodation. If it is a big group, go for a massive villa. Hope this guide will be able to help you with your California Road Trip planing and location selection.